DIwine by Abby Rose Creations
So the winter was fast approaching and although I work from home, I needed a place for our pup to hideout in case the weather got bad quicker than I was able to get out and being him in.  I do customer service from home so if I'm in the middle of an hour long phone call, I have to finish it before I can rescue him. I had no idea how to make a doghouse aside from knowing it needed a floor, roof and walls. I wanted it to be insulated as well, since it gets pretty cold here...
---
• how to package handmade • packaging • product packaging • unboxing experience • vendor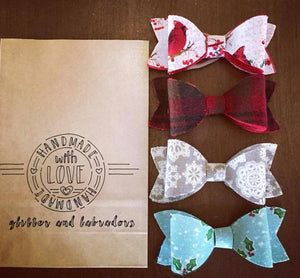 I have ordered a lot of things online. Like A LOT OF FUN THINGS. Nothing quite builds the excitement for me as well thought out product packaging. Some call it, 'the unboxing experience'. If you get this right, you will magnify the enjoyment for your customer, help to cement your brand into their head, and increase the likelihood that they will share that experience with others. Pretty packaging does make for some great Instagram posts! First things first, if you don't already see the value in quality fantastical packaging, then I suggest you check out the following blogs: Shipping and Fulfilment...
---
• 2nd birthday • birthday fun • birthday ideas • dino party • diy • feed the t-rex game • kids birthday ideas • kids party • second birthday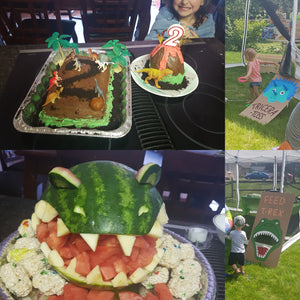 I don't normally like doing big events for kid parties because it's a lot of work and they likely won't remember it anyway... but this time was different. Since moving to our new house in March, many friends and family hadn't been to see our house yet, so, I figured, let's have a big party! I scoured Pinterest for ideas on what to do and settled on a few things I must do: TriceratossFeed the TrexWatermelon DinoVolcano Smash Cake Here is how it all turned out! Thanks for following along! Stay crafty my friends,   Adelle  
---
• art • family night • family paint • octopus painting • paint night • painting with kids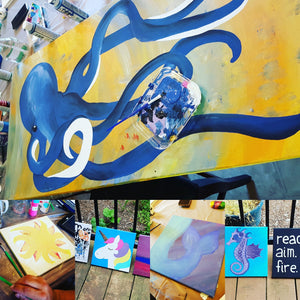 Every now and then my family like to get our paint on. Sometimes the kids make me sketch something for them to paint and sometimes they surprise me and come up with something completely original.  I had this one large painting that I had completed with my eldest daughter when she was just 2 or 3. She has been asking for some under the sea artwork for her room, so I thought we'd liven this one up and add an octopus. Here is the before: ...and here is the after! Here are some of the fruits of our most recent family paint...
---
• diy • home improvement • messy cupboard • organization • organizing • organizing tupperware • tupperware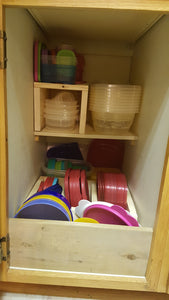 I've been throwing tupperware in this shelfless good for nothing cupboard for a couple of months before I finally had enough. I decided to take some of my pine scraps and add some organization to this mess. A couple of shelves, a sorter for lids and a piece at the front to keep things contained and now, she is a beauty in all her simplicity. Opening my cupboard door doesn't scare me any more :) Thank you for following along! Stay crafty my friends,   Adelle